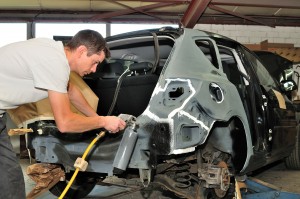 For high-quality auto body repairs, bring your vehicle to "Pacific Auto Body Group".
We can take care of everything from minor dents to extensive repairs, not to mention we only use expert color matching to make sure your car looks like new.
We can also repair and replace bumpers, and we're also skilled at restoring classic cars. Whether your car is foreign or domestic, we do accurate, high-quality work.
Excellence in customer service and satisfaction, as well as excellence and quality in repairs are our focus. The expert and skilled technicians have many years of training and are committed to providing high quality collision restoration of your vehicle.
We have more than 10 years of experience in the field of auto body repairs, and our objective is to provide prompt project completion.
We provide services to:
Auto Body Repair
Car Painting / Auto Painting
Complete Vehicle Restoration
Dent Repair/ Paint-less Dent Removal
Window Replacements
Scratch Removal/Graphics Removal
Structural Body Part Repairs
Laser Tech Frame Straightening
Computer Match Paint System
Washing and Detailing
We can take care of anything from frame straightening and scratch and dent removal, to window replacement and a fresh coat of paint, or complete vehicle restoration.
We'll offer you a lifetime warranty for our work, and we want our services to be as hassle free as possible. We charge competitive rates, and if you have to wait for your vehicle, we can provide you with a rental loaner car.
Why choose us?
We know cars and we know people
Our time saves you time
We keep you in control, in the loop and up to date
Claim will be handled quickly
Repair @ factory specifications
Our skilled technicians will do an inspection of your vehicle and restore the damaged areas. We are trained to recognize damage that has been caused by collisions and repair these damages.
When your vehicle has been damaged, you want it returned to "like new" condition, if at all possible. That is our goal. We will fix scratches and dings before your vehicle is painted.
Over the years, we've formed great relationships with local insurance companies. We do our best to get the best estimate as quickly as possible so that we can fix and return your car to you without delays.
We repair all makes and models and provide free written estimates. Contact our auto body shop at (213) 204-5810 for all of your auto collision repair needs.